Think of this… your company logo and slogan on every envelope you send out! Build a presence and awareness among your target market just by sending mail out!
Cost effective solutions that will suit businesses of all levels. Cost effective even in smaller numbers means you can order the type and quantity of envelopes that match your business needs. Choose Window or Non window, Postage Included or Non postage in the size and quantity you want.
Choose from one colour (Black, Blue, Red or Green) and full multi colour options. All we need is your logo in EPS or JPEG format and our designers will create you a distictive custom branded envelope design.
We offer three types of printing: Economy, Digital and Premium Offset.
One Colour Economy Printing: Choose from Standard Single Colour Black, Blue, Red or Green, Economy
Multi Colour Digital Printing: Choose any colour or multiple colour combinations, Economy Digital
Premium Offset Printing: The same quality printing as used for brochures. The cost is dependent on your artwork, envelope size and quantities ordered.
- Request a Quote: Simply send us a 'Print Request' – tell us your requirements and we will send you a detailed obligation free quote, so you will know exactly how much it will cost. *You can check envelope costs in our online shop.
Whatever print quality you choose, once you approve the quote, we will send you artwork designs to approve before printing your job.
REQUEST A PRINT QUOTE or Contact Us if you have any questions.
IMPORTANT; All Postage Included envelope OFFSET PRINTED orders must be received no later than 4:00pm Friday 10th June 2022. Orders received after this date will be subject to the new postal rates gazetted to commence from 1st July 2022.
In house print (economy) cut off for all orders will be Tuesday 28th at 5pm to guarantee that the stock can be printed , shipped, and invoiced before 30 June
Print areas and examples.
Multi Colour Printing: Perfect for reproducing your logo and messages in any colours. Recommended when using graduated colours and shading. Send us a full colour logo and/or graphic and will create some standout designs for you to approve before printing.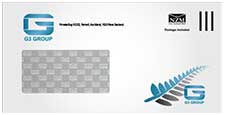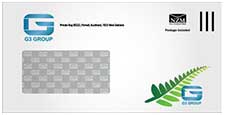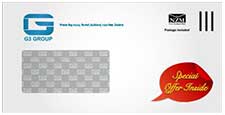 Single Colour Printing: Red, Green, Blue or Black. Graphics need to be supplied as black only - we will colourise them in your choosen colour and send you some sample layouts for approval.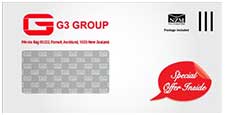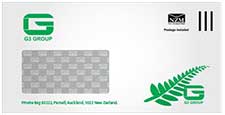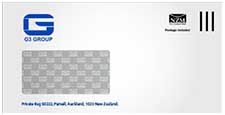 Single Colour Text Only: Red, Green, Blue or Black - Text only. Simply provide your company name and return address and we will create some designs and send them to you for approval.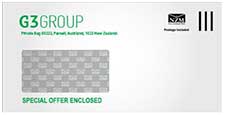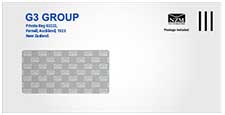 Printing Zones: There are 3 print zones on an envelope.
Zone 1 is the classic area for Logos and sender address, easily visable at the top of the envelope.
Zone 2 is normally used for support graphics and marketing messages. See samples above.
Zone 3 is sometimes used as an alternative sender address area or short message.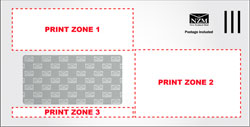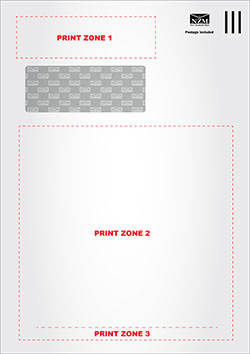 REQUEST A PRINT QUOTE or Contact Us if you have any questions.